However in 1994, when the trend of consuming coconut based foods and drinks was not as escalting as before in Taiwan and Japan, yet the manegement was not discouraged. The unfortunate circumstances even proppeled the company to change its courses by diversifying its products and created a commercial brand, INACO. The initial succes and experiences gave the management of PT Nitramas Utama very valuable lessons and further encouragement to do major breakthrough. The Goal was to provide nata de coco in an attractive package directly to customers.
From then on, the company has created several more product specificaly created for different market segment, forom jelly with various flavors and tastes to aloevera based products that answered the need of consumers on healthy diet products.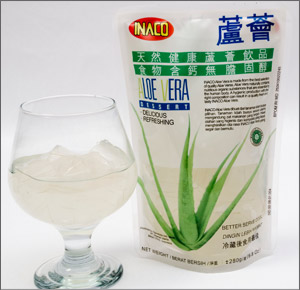 In 2000, again the company went ahead with the launching of functional jelly product, famosly named YOGJELL that contained prebiotic in its servings. Not only it brought delights at heart of the jelly lovers for its flavors and tastes, but also become a joyfull treat for its highly nutrition
Never Stopping at the Effort of profiding the customers with better Product to achieve premium satisfaction and due to market demands, in year 2002, the company launched jelly Based Called YOI
Deducation to Exellence has always been major consideration for PT Niramas Utama to seek advancements in every way possible, either in running the company, development of its human resources, state of the art facillities or creation of qulity and healthy products. But most of all, the whole entitiy has an embodied mission, to server the well deserved customers, superior products and service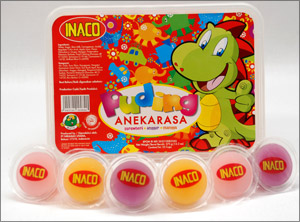 Company History
ESTABLISHED IN 1990 (1st Factory in Bekasi)
1990 : Producing nata de coco semi process to Japan & Taiwan
1994 : Producing nata de coco consumer pack
1996 : Producing kinds of Jelly Product
1999 : Producing aloevera semi process & consumer pack
2001 : Innovation of Functional Foods, which is Jelly with Prebiotics
namely
2002 : Producing 2nd brand of Jelly product to penetrate middle
low class,
2003 : NEW 2ND FACTORY IN PONTIANAK ,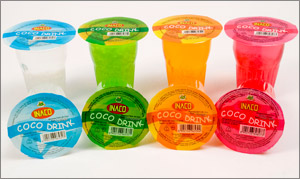 GROUP OF PRODUCT:
NATA DE COCO : cellulose dietary fibre, fermentation product from coconut

JELLY : made from carrageenan (seaweed), which is rich of mineral, vitamin and dietary fibre

ALOEVERA : from the aloevera leaves that naturally rich of mineral & vitamins
Sales & Marketing

Local Sales : National wide with multi distributor system (5 Branches & 24 Local Distributor).
Export Sales : Japan, Canada, USA, Hongkong, Philiphine, Taiwan, Singapore, Australia, India.



Export Sales Office & Factory
Jl. Raya Bekasi Tambun Km 39,5 Bekasi 17510, Indonesia
Phone : +62218807222, 88349573
Fax : (62 21) 8806966, 8801212
Email : info@inacofood.com
Factory I: Jl. Raya Bekasi Km. 39,5 Tambun - Bekasi
Phone. (62-21)8806930,8802731,880966 Facs. 8801212

Factory II: JL. 28 Oktober , Pontianak , West Kalimantan, Indonesia